Professional Engineers Country Weekend 20 to 22 Oct 2023 in Swan Hill – Invitation
Some Professional Engineers could well be interested in taking a break from the big city or their country town and joining in with a live-in type activity with an engineering flavour and a friendly atmosphere. This is coming up in the Swan Hill area in northern Victoria from Friday evening 20 October to Sunday afternoon 22 Oct 2023.
The Weekend of interesting visits and events at local venues is designed to delightfully entertain Prof. Engineers along with their family and friends while enjoying the hospitality of the local Prof. Engineers and their families.
Booking for the Weekend can be done by clicking on the links in the instructions in the Registration section given below the pictures of the two page flyer which shows the program for the Weekend.
If you need any further assistance feel free to contact one of the lead organisers David Eltringham (mobile 0418 147 482, phone 03 5382 4890, email djelt@bigpond.com) or Martin Duke (mobile 0458 788 747, email fam_duke@yahoo.com).
The basic fee is $185, incl GST, per adult with some add-on fees for your accommodation and entry to some of the optional events.
This annual Weekend event has been organized for many years by Country Professional Engineers in Victoria and is supported enthusiastically by the IPWEA. Each year it is held in a different Victorian country town and people typically come from Victoria, NSW and SA to join in.
Ing. Kelvin Lillingstone-Hall,
President, Ingenieurs Australia Society Inc.
14 Sept 2023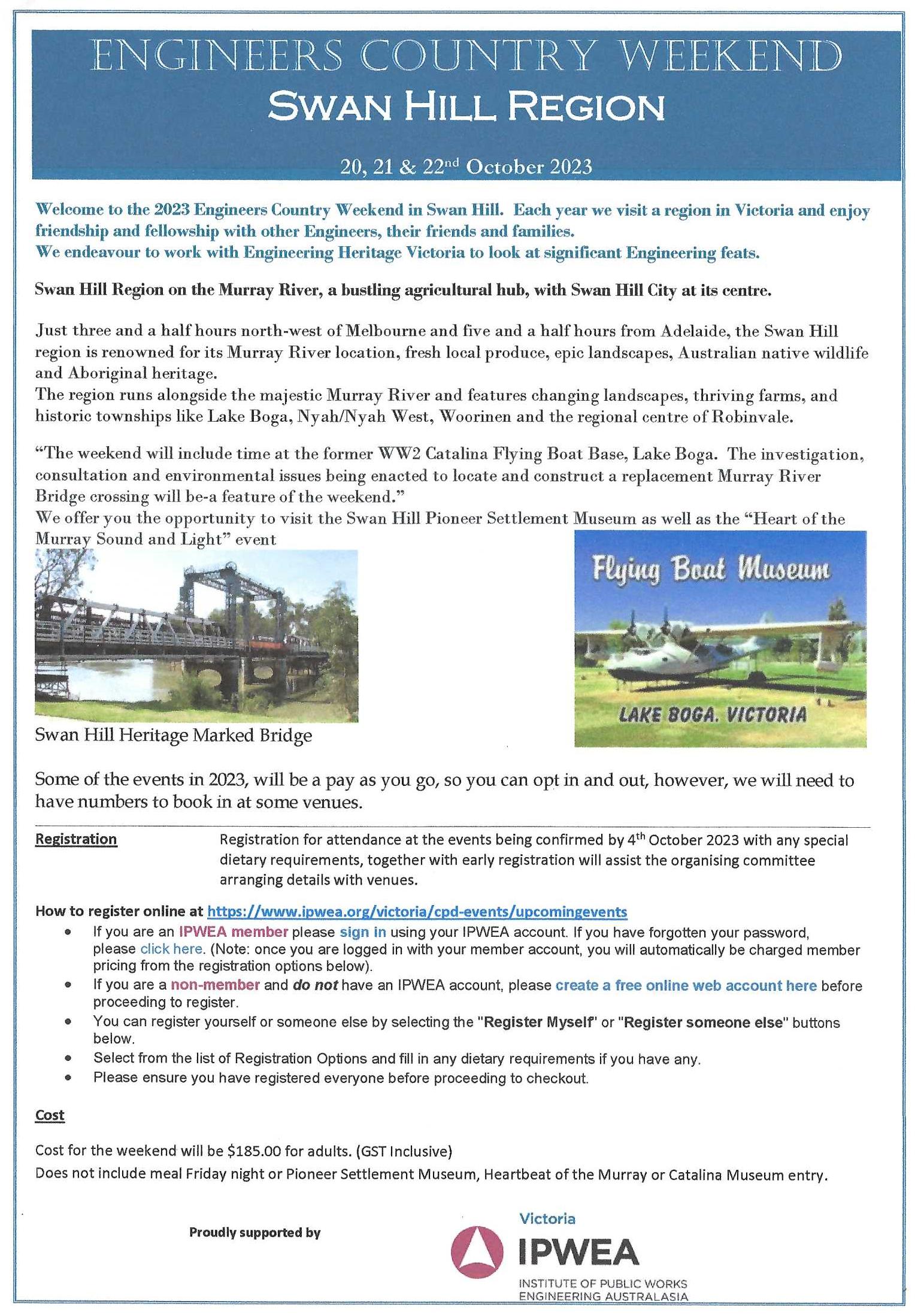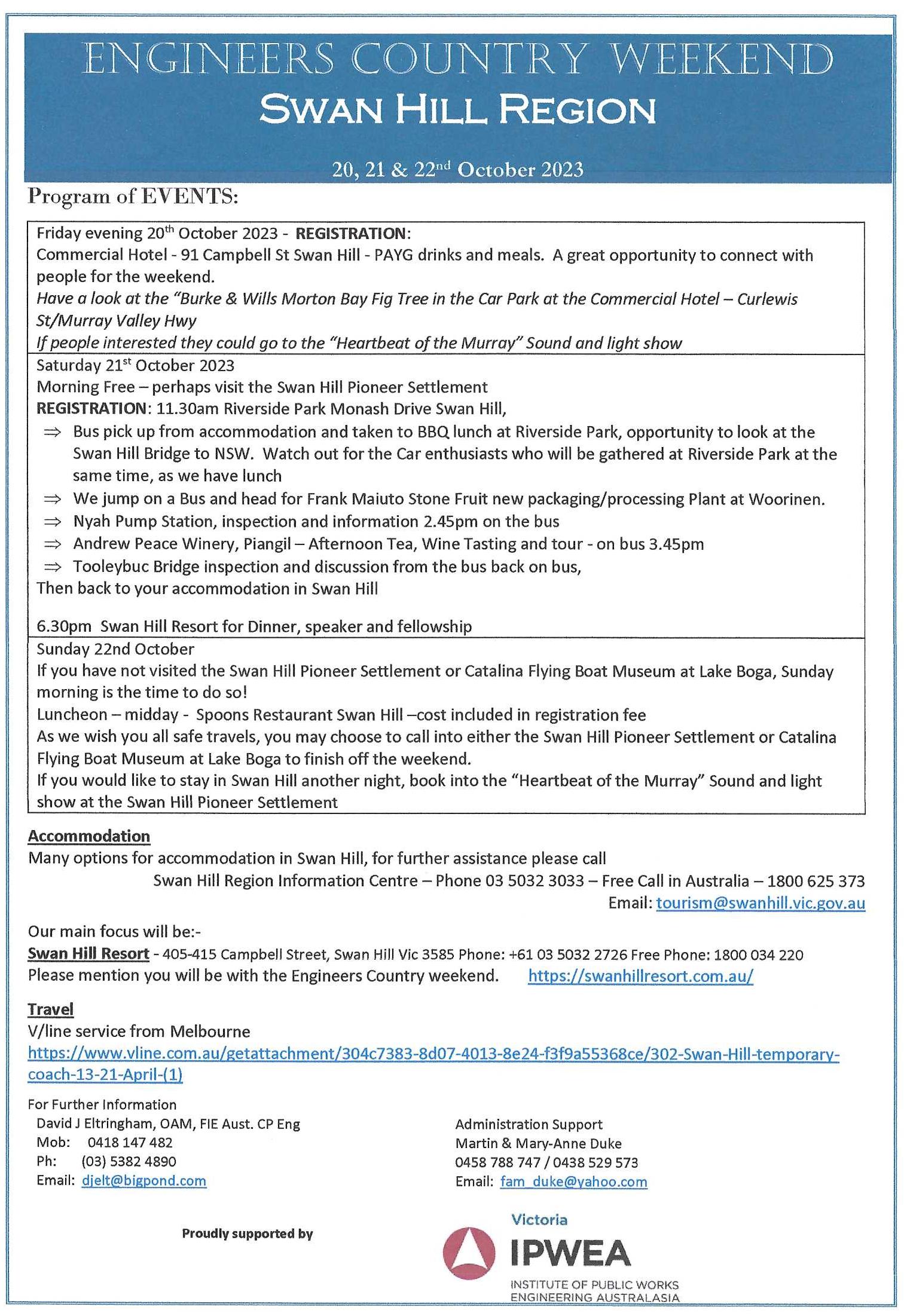 _______________________________________________________________________________________________________________________________
Registration
Note: Your early registration by 4th October 2023 for attendance, including with any special dietary requirements, will assist the organising committee in arranging details with the local venues.
How to register online through the IPWEA website at https://www.ipwea.org/victoria/cpd-events/upcomingevents is as follows:

If you are an IPWEA member, please sign in using your IPWEA account. If you have forgotten your password, please click here. (Note: Once you are logged in with your member account, you will automatically be charged the lower member pricing with the registration options below).
If you are a non-member of IPWEA and do not have an IPWEA account, please create a free online web account here before proceeding to register.
Use this sign in so you can register yourself and/or someone else by selecting the options of "Register Myself" and/or "Register Someone Else" buttons lower down on the IPWEA website registration page which comes up under the "2023 Victorian Engineers Country Weekend" event under Education & Events.
Then select from this list of Registration Options on the IPWEA webpage and also fill in any dietary requirements, if you have any.
Please ensure you have registered everyone before proceeding to the checkout with your credit card.
Cost
The basic fee for the Weekend will be $185.00 for each adult. (GST Inclusive).
However, this does not include the cost of your accommodation, the meal on Friday evening or the entry fees for the optional visits to the Pioneer Settlement Museum, the Heartbeat of the Murray and/or the Catalina Museum.
_________________________________________________________________________________________________________
Accommodation 
For the many options for accommodation in Swan Hill you may receive assistance from:
The Swan Hill Region Information Centre – Phone 03 5032 3033 – or Free Call in Australia on 1800 625 373. Their email is: tourism@swanhill.vic.gov.au
Our main focus for accommodation on the Weekend will be the:-
Swan Hill Resort – 405-415 Campbell Street, Swan Hill Vic 3585. Phone: +61 03 5032 2726 or Free Phone: 1800 034 220.
Please mention you will be with the Engineers Country Weekend.  Their website is at  https://swanhillresort.com.au/
Travel to Swan Hill

Of course you may wish to drive there or you might like to look at the V/line train service timetable from Melbourne at:
https://www.vline.com.au/getattachment/304c7383-8d07-4013-8e24-f3f9a55368ce/302-Swan-Hill-temporary-coach-13-21-April-(1)
_________________________________________________________________________________________________________