Professional Engineers Welcome You
---
The infrastructure / technological needs of our community's modern lifestyle are numerous and sophisticated. Think about the infrastructure / technological services we use as a community – water, electricity, gas, road, transport and broadband / telephone / television services to mention a few. And think about the infrastructure / technological products we use – freeways, TV sets, satellites, mobile phones, aeroplanes, bridges, computers, robots, video games, domestic appliances and motor cars, etc. Also, think about our energy and mineral resource developments and the wealth they earn for Australia. Professional Engineers are responsible for the high level planning, design and project management of all these things.
---
Like Scientists, Doctors, Lawyers, Accountants and Architects, Professional Engineers are highly qualified men and women. First they complete a four-year professional engineering Bachelor's degree at a University.  Then they undertake supervised experience in a professional engineering office or, for example, when a Civil Professional Engineer puts on a hard hat to inspect the design of a high rise building, bridge or other construction they have designed to ensure it is being built to meet the design specifications for usefulness and safety of the public. Some proceed to Master's and Doctorate degrees and some become high level planners, designers, applied research workers and managers. Professional Engineers each operate in a different field such as electrical, electronics, mechanical, manufacturing, civil, environmental, chemical and space. They must continue to keep themselves up-to-date with infrastructure / technology Continuing Professional Development to provide our community with the best possible engineering products and services. Professional Engineers use their knowledge of mathematics, science and technology, coupled with high level ingenuity and creativity, to design material benefits for improving the quality of life of the community. They also project manage the manufacture, construction and maintenance of the projects they conceive. Professional Engineers must keep the safety of workers and the community uppermost in their minds, particularly when designing bridges that span great distances and multi-storey buildings. They must also communicate well with Politicians, community groups and local government people, etc to ensure that the needs of the whole community are being met by the Professional Engineers' designs.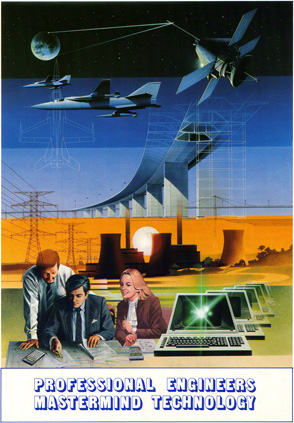 There are about 150,000 Professional Engineers in Australia working in public authorities, local councils, manufacturing industry, infrastructure companies, mining companies  and consulting practices. A small but growing proportion of Australian Professional Engineers are women. Many more Professional Engineers are needed to be employed in manufacturing industry to put Australia on the road to a better high-tech future with the resultant wealth this will bring for all Australians.
Please don't confuse Professional Engineers with Engine Operators, Tradespeople, Mechanics, Technicians, Technical Officers and Technologists who are often called Engineers in English speaking countries like Australia. Having said this, however, Professional Engineers respect and value these team members and their roles as technical experts helping with the detail designing, drafting, building, maintaining and operating of the infrastructure / technological products and services designed by Professional Engineers.
If you would like to know more about the engineering profession please feel free to contact the Ingenieurs Australia Society. The next time you meet a Professional Engineer ask them what field of infrastructure / technology he or she is masterminding in.